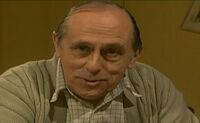 Mr Rossiter is a recurring character who appears occasionally within the show. He is the landlord to Stephen, Madison and Ella and owns the Apartment building which houses their apartments. He is shown to be angry and despise Basil and the others, often just turning up to demand the rent.
Show
In Ella he is showing people around the building who are interested in renting Ella's Flat, before it was hers, but all of the people kept fleeing when they saw Basil, who they mistook for diffrent animals. Getting annoyed with this happening over and over again, he shut Basil and Steven in the bathroom of their flat but Basil and Stephen escaped through the air conditioning system via a "handily-placed grill" on the ceiling.
In another episode the gang have turned the flat into a popular hotel by adversing the flat as "The Worst Hotel in the World" where the guests stay in cramped room and the staff, the gang, are rude and insulting to them. This is shut down at the end of the episode by Mr Rossiter when he turns up in a devil costume and charges them £100 for every customer whose in the flat.
Also in one of the others, the boys attacked him, thinking he was a thief. He returns in the twelfth episode of Series 6.He is loosely based on Leonard Rossiter who appeared in Rising Damp as a landlord.